Extract Questions From Forums
I'm a big fan of looking at forums to betting understand my target audience. Sometimes when keyword research doesn't yield helpful results, forums can be a strategy saver. James and Ruth found an awesome regex script to crawl forums to extract all questions.
Please note that when you are scraping forums, you'll want to configure your include and exclude rules to ensure that you're only crawling relevant forum topics to your needs.
The exact regex we'll be using is actually a combination of Xpath and Regex. You'll want to replace 'when' with your question words.
//*[text() [starts-with (translate (.,'ABCDEFGHIJKLMNOPQRSTUVWXYZ','abcdefghijklmnopqrstuvwxyz'), 'when')]]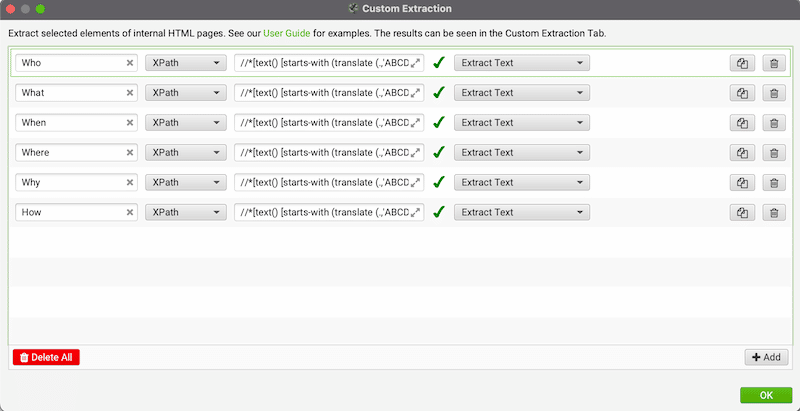 Uncovering Indexing Issues
This one comes with a big warning and disclaimer. Google does not like it when you scrape their index. They have special APIs and rules around this for rank trackers. However, if you suspect sections of your website may have indexing issues, you can use screaming frog to run a bulk check.
How this works is you run screaming frog in list mode so that you are only looking at a smaller set of pages. Screaming frog then uses Xpaths to look at cache date in Google's index. Note that the xpath changes often so you'll need to update this frequently.

In the screenshot above, notice that we have the URL https://webcache.googleusercontent.com/search?q=cache: followed by my website. This is how we're going to generate the snapshot date. You will use a concatenate formula in Google Sheets or Excel to create your crawl list.
Next, we'll need to get the latest xpath from the page. You can do this by right clicking on the date, which opens the inspect tool. Then right click on the HTML and copy the xpath.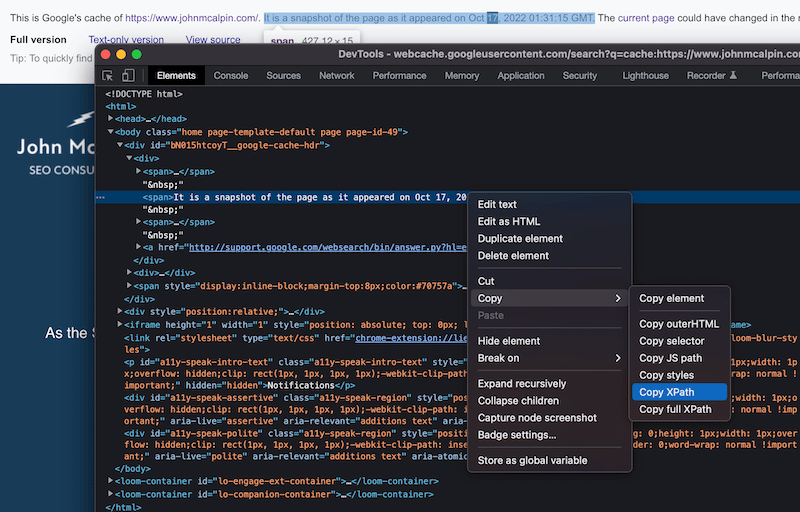 The final xpath you put in screaming frog may look something like this.
//*[@id="bN015htcoyT__google-cache-hdr"]/div[1]/span[2]